Traditional (scale)
Edit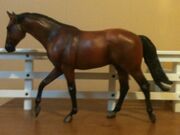 Traditional scale is the largest scale released by Breyer Animal Creations. Traditional Breyers are the most collectable and most popular. Most Traditionals are 1:9 scale (around 8" H x 11" L) though the size can vary depending on the mold.
List of Traditional Molds
Edit
Alborozo (discontinued in 2008)
Amber
American Saddlebred Stallion
Andalusian Stallion
Appaloosa Performance Horse
Aristocrat Champion Hackney
Ashley
Balking Mule
Belgain
Big Ben
Black Beauty
Black Stallion
Bluegrass Bandit
Bolya (or Halla)
Bouncer
Brighty
Brown Sunshine
Buckshot
Cantering Welsh Pony
Cedarfarm Wixom (or Percheron Mare)
Cigar
Cleveland Bay
Clydesdale Foal
Clydesdale Mare
Clydesdale Stallion
Cody
Donkey
El Pastor
Espirit
Ethereal
Family Arabian Foal
Family Arabian Mare
Fighting Stallion
Five Gaiter
Flash
Foundation Stallion
Friesian
Fury Prancer
Galiceno
Gem Twist
Gilen
Giselle
Goffert
Grazing Foal
Grazing Mare
Haflinger
Halla (or Bolya)
Hanoverian
Henry (or Fjord)
Huckleberry Bay
Ideal American Quarter Horse
Idocus
In-Between Mare
Indian Pony
John Henry
Jumping Horse
Justin Morgan
Kennebec Count
Khemosabi
Lady Phase
Lady Roxanna
Le Fire
Legionario
Llanarth True Briton (or Welsh Cob)
Lonesome Glory
Lying Down Foal
Make A Wish
Marabella
Midnight Sun
Midnight Tango
Missouri Fox Trotter (or Iron Metal Chief)
Misty
Misty's Twilight
Morgan
Morganglanz
Mustang
Newsworthy
Nokota Horse
Nursing Foal
Oasis (or Justadream)
Old Timer
Othello (or Wintersong or Four Seasons)
Pacer
Peruvian Paso Stallion
Phantom Wings
Phar Lap
Pluto
Pony of the Americas
Proud Arabian Foal (discontinued)
Proud Arabian Mare (discontinued)
Proud Arabian Stallion
Quarter Horse Gelding
Quarter Horse Yearling
Race Horse
Rain
Rejoice
Roemer
Roxy
Roy the Belgian
Ruffian
Rugged Lark
Running Foal
Running Mare
Running Stallion
Saddlebred Weanling
Salinero
San Domingo
Scratching Foal
Sea Star
Secretariat
Sham
Sherman Morgan
Shetland Pony
Shire
Show Jumping Warmblood
Silver
Smart Chic Olena
Smarty Jones
Smoky
Spirit
Standing Stock Horse Foal
Stock Horse Mare
Stock Horse Stallion
Stormy
Strapless
Stud Spider
Susecion
Thoroughbred Mare
Touch of Class
Trakehner
Weather Girl
Western Horse
Western Pony
Western Prancing Horse
Zebra
Zippo Pine Bar
Community content is available under
CC-BY-SA
unless otherwise noted.