Man O' War (mold)
Edit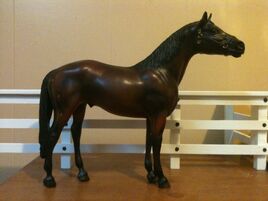 The Man O' War model was released in 1969 and sculpted by Chris Hess. The Man O' War mold is a Traditional scale mold. The mold features a stallion horse with all four hooves on the ground in a standing position looking ahead. His tail is down and touching the right back leg. The mane is down on the horse's neck. The mold also has a sculpted halter on. The mold is based on Man O' War the famous Thoroughbred racehorse.
Man O' War (racehorse)
Edit
Man O' War (March 29, 1917 - November 1, 1947) was a famous Thoroughbred racehorse and considered to by some to be the best racehorse of all time. During his career, he won 20 out of 21 races and $249,465 in purses.
Models using this Mold
Edit
#47 Man O' War (red chestnut with color variations) - released 1965-1995
#47 Man O' War (red chestnut) - released 2010 (World Equestrian Games Reissue, only 48 made)
#47 Man O' War Presentation Collection (red chestnut, mounted on hardwood base) - released 1972-1973
#718 General Lee's Traveller (light grey) - released 1998-1999
#966 My Prince (medium brown chestnut) - released 1996-1997
#1189 War Admiral (dark brown) - released 2003-2004
#1271 Spectacular Bid (grey roan) - released 2006
#413091 Man O' War (glossy gold charm) - released 1991 (BreyerFest Raffle Model, only 21 made)
#497510 Race Horse Set (glossy red chestnut) (with Secretariat and Sham) - released 1990 (Sears, only 2,000 made)
#700300 Gatsby (dark bay blanket) - released 2000 (Breyer Tour Model)
Man O' War (red chestnut) - released 2002 (QVC)
Community content is available under
CC-BY-SA
unless otherwise noted.